Avid readers will know I dove into the Big Board last week to bring you a list of the most astonishingly undervalued players. I had so much fun that I'm back to do it again, this time filling in every spot on the diamond. The same caveats apply here - these player values are calculated using the default Big Board with ESPN default settings and 5x5 scoring. This time I'll be opting for the ever-popular 50-50 mix of Steamer and ZiPS projections. Player rankings are compared against ADPs for ESPN, Yahoo, and CBS to find the players being most undervalued in drafts compared to their projections. To do this on your own (and customize it for your specific league), get your own version of the Big Board!
C –
ADP: ESPN – 161 Yahoo – 144 CBS – 133 Big Board's 121st best player, $11
2014 Stats: 538 PA, 23 HR, 57 R, 75 RBI, 0 SB, .232 AVG Projection: 515 PA, 23 HR, 59 R, 74 RBI, 1 SB, .250 AVG
Brian McCann became the unwitting posterchild for hitting into the shift in 2014, but before that happened fantasy owners were salivating at the idea of him playing 150+ games as the Yankees C/1B/DH and launching shots onto the short porch in Yankee Stadium. The projections still see that player in there, and all he really needs is a slight rebound in BABIP to do it. When it comes to catchers, bet on the guys like McCann who can realistically put up 550 PA, because that alone will make them more useful than their counterparts. His value has slowly been evaporating, especially in CBS where his ADP moved up 10 spots this week, so hopefully your league drafts soon!
1B(/OF) –
ADP: ESPN – 217 Yahoo – 213 CBS – 196 Big Board's 90th best player, $13 5x5z
2014 Stats: 383 PA, 21 HR, 51 R, 49 RBI, 5 SB, .293 AVG Projection: 528 PA, 23 HR, 66 R, 69 RBI, 5 SB, .267 AVG
Yes, he's back again from the 1st list. Pearce sandwiched two hot streaks around a slump last year, but the resulting line was pretty, and after the O's made relatively few offseason moves it seems he'll have a solid role heading into 2015. Steamer's regression still puts him at giving positive value in batting average, while also kicking in above average power and non-zero speed. I have to assume the major sites are regressing him more heavily AND giving him less than 500 PA, but I think even a slightly platooned Pearce will find his way to 450 PA and around 20 HR. He's always been a lefty-masher, so there is a risk that he ends up in a strict shortside platoon, but the upside and low cost tell me it's worth the risk.
2B –
ADP: ESPN – 205 Yahoo – 278 CBS – 247 Big Board's 153rd best player, $8
2014 Stats: 417 PA, 9 HR, 39 R, 48 RBI, 4 SB .259 AVG Projection: 553 PA, 14 HR, 60 R, 63 RBI, 14 SB, .262 AVG
Exit Jurickson Profar… enter, Rougned Odor. I liked Odor already as a deeper sleeper coming into the season, but now the Texas 2B job is all his. While I'm a little worried about the steals after he looked lost on the bases last year (4 SB, 7 CS), he was also just 20 years old. As long as he doesn't turn into this year's version of Brad Miller (just enough in every category for the projection systems to love him, but doesn't quite pan out), he will be a sneaky value.
SS –
ADP: ESPN – 194 Yahoo – 187 CBS – 162 Big Board's 63rd best player, $16
2014 Stats: 229 PA, 9 HR, 25 R, 20 RBI, 5 SB, .169 AVG Projection: 585 PA, 28 HR, 76 R, 75 RBI, 15 SB, .228 AVG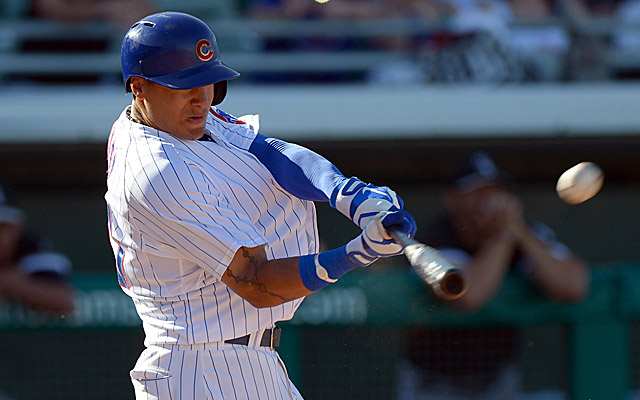 Forget the average. You're not drafting him for average. Just cross your fingers, hope he gets on base enough to not be demoted to AAA, and enjoy having the #2 homerun-hitting shortstop in 2015 after Tulo. It's worth noting that Baez has had a significant adjustment period at every professional level, and it's always been followed by absolute destruction of baseballs. Could it happen at the MLB level too? Even if it doesn't, the 9 HR in just 229 PA proved the power will be real when he manages to make contact.
3B –
ADP: ESPN – 226 Yahoo – 242 CBS – 230 Big Board's 184th best player, $6
2014 Stats: 531 PA, 13 HR, 55 R, 49 RBI, 7 SB .243 AVG Projection: 581 PA, 18 HR, 70 R, 69 RBI, 8 SB, .255 AVG
Headley's stint with the Yankees last year showed off the power potential for a guy whose power has been suppressed by San Diego for so long. Apply that park factor change over a full season and we get a 20ish HR player currently being drafted around the 20th round – not too shabby! If you miss out on the elite 3B, you may want to pass on the meh-worthy options in the middle and shoot for Headley.
OF –
ADP: ESPN – 134 Yahoo – 75 CBS – 94 Big Board's 37th best player, $20
2014 Stats: 648 PA, 19 HR, 82 R, 72 RBI, 28 SB, .288 AVG Projection: 664 PA, 17 HR, 80 R, 68 RBI, 23 SB, .276 AVG
"But he was just a fluke last year!" … yep, a little bit. But projected for a bit less power, average, and speed this year, Blackmon is still a top fantasy option who isn't being drafted that way. While Drew Stubbs is likely to sneak away some PA from the three starting Colorado OF's, Blackmon should get at least 600 PA this year with half of them coming in everyone's favorite Fantasy Baseball stadium, Coors Field. He's no CarGo, but enjoy the buoyed HR power and BABIP that comes with being a Rockie and draft with confidence.
OF –
ADP: ESPN – 147 Yahoo – 105 CBS – 82 Big Board's 51st best player, $18
2014 Stats: 480 PA, 23 HR, 57 R, 76 RBI, 6 SB, .315 AVG Projection: 581 PA, 23 HR, 66 R, 89 RBI, 6 SB, .278 AVG
Martinez was unstoppable once he got a starting job for Detroit last year, mostly hitting fifth in one of the most potent lineups in baseball. Though he may move down a spot with the arrival of Cespedes, I'm confident he'll at least meet his projections, and could surpass them if he can maintain his high BABIP from last year. Some great analysis over at FG has discussed the fundamental changes in J.D.'s swing that have led to the breakout and really underlines the fact that this new productivity at the plate is something we can believe in. Especially in ESPN, J.D. is going to be a steal in drafts this year.
OF –
ADP: ESPN – 124 Yahoo – 84 CBS – 100 Big Board's 62nd best player, $16
2014 MLB: 97 PA, 5 HR, 11 R, 20 RBI, 1 SB, .292 AVG 2014 MiLB: 236 PA, 15 HR, 42 R, 57 RBI, 0 SB, .340 AVG Projection: 558 PA, 22 HR, 74 R, 87 RBI, 4 SB, .257 AVG
Not only is Soler projected for value significantly above his ADP, but I believe there's quite a bit of upside above that line. Injuries in the minors kept him a bit under the radar, but he returned with a vengeance in late 2015, showing off a mature approach with walk rates above 13% at every MiLB level. He K'd more and walked less in his 100 PA stint with the Cubs, but at just 22 years old he's got plenty of room to mature this season while hitting 4th or 5th in the Cubs lineup every day. Plus, he showed up with 25 lbs of extra muscle at spring training, and by all accounts looks like an absolute monster.
OF(/1B) –
ADP: ESPN – 140 Yahoo – 163 CBS – 156 Big Board's 106th best player, $12 5x5z
2014 Stats: 580 PA, 25 HR, 70 R, 81 RBI, .234 AVG [Injured] Projection: 512 PA, 28 HR, 65 R, 76 RBI, .242 AVG
Old man Moss broke his old man hip last year, and had a terrible 2nd half because of it. But he's gotten healthy since then and left the power-sapping confines of O.Co, two things that have his arrow solidly pointing up. He's always been a righty masher and even rode some BABIP luck to a decent 1st half against lefties last season. A healthy Moss could easily beat 25 HR, maybe approaching 30, and at worst he'll be in a predictable platoon situation (at best, he could play every day).
OF –
ADP: ESPN – 205 Yahoo – N/A CBS – 147 Big Board's 120th best player, $11
2014 AAA: 553 PA, 33 HR, 106 R, 78 RBI, 30 SB .303 AVG Projection: 541 PA, 20 HR, 67 R, 65 RBI, 18 SB, .232 AVG
Pederson might be the 2015 version of 2014's George Springer (and George Springer might also be that, but will cost you an early round pick instead). He brings both power and speed, should come super cheap, and is likely to be the opening day CF for the Dodgers. They traded away Kemp and are trying to pay people to take Ethier off their hands, so Pederson is firmly slotted in as the future of the team, and any time a powerhouse like the Dodgers is willing to do that for a young guy, it's time to do the same on your fantasy squad. Ignore the K's just like you do for Springer, and enjoy the ability to spend those early round $'s on more scarce positions.
SP –
ADP: ESPN – 170 Yahoo – 195 CBS – 210 Big Board's 81st best player, $13
2014 Stats: 153 IP, 9 W, 133 K, 3.24 ERA, 1.16 WHIP Projection: 190 IP, 13 W, 176 K, 3.39 ERA, 1.17 WHIP
I was quite excited for Smyly, and his ADP had indeed been rising up until this past week when it was revealed he'll likely miss a start or two at the beginning of the season. I'm fine with that because now we can definitely get a deal on draft day. Plus he's still never pitched very many innings due to Detroit jerking him around in their swingman role, so we won't have to worry as much about a late season shutdown now. Smyly was elite after the trade to TB last season, and while some credit of that goes to luck (BABIP, etc.), there was also a clear change in his pitch selection and location upon arrival in Tampa which has me believing there's even some upside beyond his already-solid projections. Watch the injury progress as draft day approaches, but if Smyly is hanging around on your board due to that ugly "DL" tag next to his name, don't be afraid to pounce.
SP –
ADP: ESPN – 193 Yahoo – 146 CBS – 103 Big Board's 104th best player, $12
2014 Stats: 209 IP, 16 W, 186 K, 3.52 ERA, 1.13 WHIP Projection: 203 IP, 14 W, 174 K, 3.71 ERA, 1.15 WHIP
Phil Hughes did some historic things in 2014, as he essentially decided to pound the zone and force hitters to try to do something about it. His 11.6 K/BB ratio was an all-time record, walking only 16 batters all season. I don't believe he'll walk so few again this year, but I also think he'll beat his elevated .324 BABIP from last year (career mark of .300)… so long as Danny Santana doesn't torpedo him over at SS. Overall, he's certainly a regression candidate, but drafters are not giving him enough credit for his very impressive 2014.
SP –
ADP: ESPN – 222 Yahoo – 202 CBS – 199 Big Board's 148th best player, $8 5x5z
2014 Stats: 136 IP, 16 W, 124 K, 3.04 ERA, 1.07 WHIP Projection: 178 IP, 12 W, 144 K, 3.68 ERA, 1.18 WHIP
I guess everyone forgot about Matt Shoemaker's 2014, because while he was essentially the Angels' ace for the latter part of the season, he's being drafted around the same place as broken down vets C.C. Sabathia and A.J. Burnett. But any time a guy puts up an 18 K-BB% over significant sample size in the majors, you've got to take notice. By that metric, Shoemaker was a top-25 starter last season. Shoemaker rode his splitter to a dominant run in the majors and I'm more than willing to buy the projected line. Heading into 2015, he'll be pitching for a great team, has a for-sure rotation spot, and should put up great rate stats despite a low-ish K%.
SP –
ADP: ESPN – 232 Yahoo – 207 CBS – 244 Big Board's 168th best player, $8
2014 Stats: 200 IP, 10 W, 175 K, 4.05 ERA, 1.28 WHIP Projection: 172 IP, 11 W, 145 K, 3.64 ERA, 1.19 WHIP
The Yankees were wise to pick up McCarthy last season after he got unlucky in essentially every conceivable way in the 1st half (BABIP, HR/FB, strand rate…). Now with the Dodgers, the projections love McCarthy's chances of repeating his strong 2014 second half, and so do I. Health will always be a slight concern with him, but for as late as he's being drafted you can't go wrong with a guy who should easily post a mid-3's ERA and 20% K rate.
RP –
ADP: ESPN – 212 Yahoo – 196 CBS – 219 Big Board's 183rd best player, $6
2014 Stats: 59 IP, 1 W, 69 K, 4.25 ERA, 1.21 WHIP, 32 SV Projection: 63 IP, 3 W, 66 K, 3.48 ERA, 1.17 WHIP, 33 SV
Finally, a reliever. I tend to have problems finding truly undervalued relievers with this method, since so much of their value is controlled by Saves, but Reed fits the bill after posting a largely meh-worthy 2014 line. Looking closer at the K-rate and BB-rate we see a guy that improved in 2014 and got a bit unlucky with balls clearing the outfield fence at inopportune times. I'll buy the Reed projection, and even though the D'Backs will be bad this year he should still get 30 saves, easy.